Mission: Invertebrate is a project aiming to enrich wildlife in the Royal Parks, some of the largest and busiest greenspaces in London. We're doing this by supporting invertebrates, the parks' most important inhabitants that all other wildlife relies on.
We're getting people of all ages involved in our work to make sure Mission: Invertebrate's impact lasts long into the future. Together we're improving habitats in our parks, conducting research, and putting on events to spread the word – all to help invertebrates thrive.
All our work is made possible through funding from players of
People's Postcode Lottery
. Thanks to their support everyone can learn about the vital role invertebrates play and what we can do to stop their populations declining.
Latest tweets
RT
@wazzo_m
: Leaving dead veteran wood benefits birds, mammals, and invertebrates, as well as adding character and history to an area. The…
14 Jun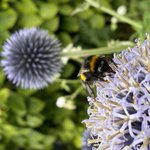 Help us improve our website by providing your feedback.