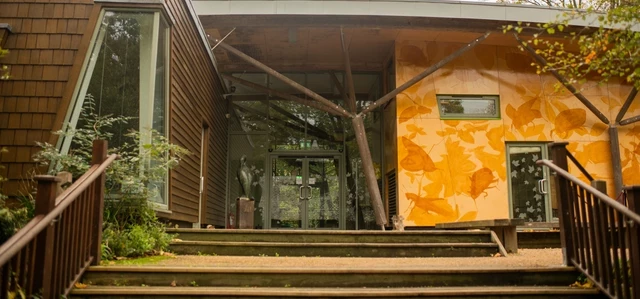 Book a visit and practical information
We offer an efficient and friendly booking service, and provide all the details you need in an easy-to-use way.
Just complete our enquiry form and one of our team will be in touch to help you.
1. Essential information
Here are the key things you need to know before your visit to us. Full information about our Covid-secure procedures can be found below and will be sent to you when you book.
Our school sessions normally run between 10.00-12.00 and 13.00-15.00. However, we are happy to be as flexible as we can on timings, so please discuss this with us at the time of booking.
Your students will spend the whole session in our enclosed gardens and/or the wider park. Check the weather forecast before your visit to ensure your students are prepared with appropriate clothing for these outdoor activities.
If you need to make special arrangements for students with physical disabilities/special needs please contact us for more information.
Please follow these adult to student ratios to supervise your group:
| | |
| --- | --- |
| Key stage | Minimum adult : pupil ratio |
| Early years foundation stage | 1:4 |
| Key stage 1 and 2 | 1:6 |
| Key stage 3 | 1:8 |
| Key stage 4 and 5+ | 1:10 |
| Special educational needs | 1:1 to 1:3 depending on group |
You'll receive full details including risk assessments when you book your visit. Alternatively, if you need a copy of these in advance, please contact us and we'll send them over to you.

2. Covid-19 security in our Learning programmes
We have worked hard to ensure that we can welcome school groups to the park in a safe and responsible way, without compromising on the quality of their experience. Please read the documents provided below carefully and ensure that your group adheres to our Learning Officers' instructions at all times. If you have any questions or additional requirements, please don't hesitate to call us to discuss these.
There will be no indoor space available for the time you are at the park except for use of toilet and handwashing facilities. 
 
Students must wear weather appropriate clothing with a waterproof outer layer. Footwear should be warm and waterproof. Hat, gloves, scarf and additional layers are recommended during the colder months. 
 
We will ask your group to eat lunch out in the park if possible. If the weather will not be conducive to this, please contact us in the days before your visit and we will endeavour to arrange a lunch space which is situated outside and under cover. 
 
A secure bag drop area will be provided. 
 
Hand washing facilities and sanitizer stations will be provided.

3. Prices
| | |
| --- | --- |
| Full day (4 hours of teaching) | Half day (2 hours of teaching) |
| £220 +VAT for a whole class | £120 +VAT for a whole class |
| Equivalent to £7.33 +VAT per student for a group of 30 | Equivalent to £4.00 +VAT per student for a group of 30 |
A bursary scheme offering free and discounted visits is available for eligible schools facing financial challenges. Please click here for more information.
1. Essential information
Our Learning Officers will be guiding your class through a Virtual Fieldwork Experience in your classroom from Hyde Park. When you make a booking, you will receive an email with further information about the session you have booked and a Zoom or Microsoft Teams link to access the session. You will also receive a physical resource pack which will be posted to your school in advance of the session.  

Our Virtual Fieldwork sessions are designed to be projected onto a screen at the front of the classroom and they work best when we are also able to see the class. Therefore the ideal set-up in advance of the session would be for a laptop camera to be facing the class and projecting our Virtual Fieldwork onto a screen at the front of the class. This set-up enables us to see the class, meaning we can interact with the students and ask/answer questions as if we were standing at the front of the classroom. Alternatively, the teacher can act as a go between from their class to the Learning Officer, selecting students to answer questions and relaying their answers or any questions to the learning officer either through video or the chat box.  

We welcome any students joining from their own computers at home, and have designed our online sessions to ensure they receive the same quality of experience. All our Virtual sessions have optional follow-up activities which can either be used following lesson time or set as homework.
2. Prices

Live online sessions are priced at £75+VAT per class. The price includes a live video conference with our team and a set of accompanying resources. Sessions are designed for a class of up to 30 students.
Downloadable resource packs (including full pre-recorded video lessons and accompanying materials) are also £75+VAT, for a one year license to use the resources with as many groups within your school as you like.
If you have any questions or to enquire about a booking please fill out the form below