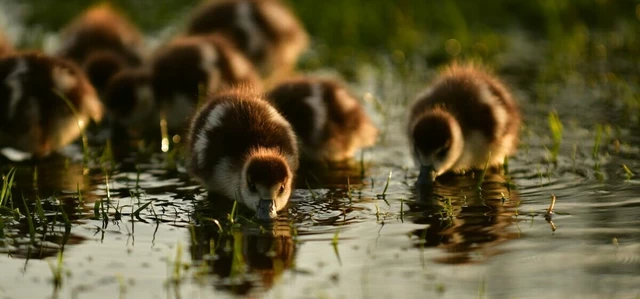 Keep wildlife wild
"The desire to feed wildlife comes from a good place. But leaving wildlife alone is often the kindest thing we can do." - Tom Jarvis, former director of parks at The Royal Parks
Help us keep wildlife wild
The Royal Parks are some of the most popular and iconic parks in the country. And they're some of the busiest – with over 77 million visits each year. Protecting the welfare of the wildlife that visitors love to see is incredibly important for the future of the parks.
Our ongoing campaign, Keep Wildlife Wild, encourages us all to help nature thrive by appreciating and observing wildlife in its natural habitat, rather than seeking an up close, personal experience.  Many of our visitors are now choosing not to feed wildlife because rather than helping birds and other species, feeding causes harm to them and the environment.
Why feeding the wildlife upsets the parks' delicate ecosystems
Feeding the ducks, or any of the other water birds in the parks, seems harmless enough. But if bread, or any other food gets into the freshwater ecosystems it can set off a chain reaction beneath the surface. As the food decomposes, the levels of algae increase, reducing sunlight and oxygen levels in the water. This can turn a perfect natural habitat into a toxic one for many fish, amphibians and invertebrates.
These creatures provide a natural source of food for the ducks. Take a look at our interactive animation that shows the complex web of food chains present in ponds and lakes around the Royal Parks to see how they all exist together.
Please don't feed the parakeets, deer or squirrels either!
We're also asking all visitors not to feed the other wildlife such as the parakeets, deer and squirrels. The parks themselves are great sources of natural food, and it's much healthier for the wildlife to eat the food that they're accustomed to foraging for, such as insects, grasses and vegetation and wildflower seeds, rather than developing an unhealthy appetite for bread and crisps.
Feeding any wildlife also attracts rats and can be a magnet for noisier wildlife such as gulls and crows. Although part of our park's ecosystems, in larger numbers attracted by feeding they bully the shyer birds, stealing their eggs and may even crowd the quieter inhabitants out of their natural habitat.  Encouraging large groups of species, such as geese and other waterfowl, can also cause them to become stressed as they squabble, and can also increase the risk of the spread of diseases such as avian flu which is devastating bird populations in the UK and around the world.
By doing something as simple as not feeding the wildlife, you're helping us to protect their habitats and the thousands of creatures that live and forage here. Thank you.
Wild means wild – keep a respectful distance
From two young squirrels playing tag, to a family of baby ducks paddling madly after their mother, the animals and birds in the parks can seem very cute, and quite safe. But they're all wild animals – and in some cases, such as our herds of red and fallow deer, wild can also mean dangerous. Especially in breeding seasons. Please respect their personal space and stay at least 50m away.
You'll see notices in all the parks about keeping a safe distance, and not feeding the wildlife. We do ask that you observe them, and keep every visitor and every creature safe and healthy in the parks.
Enjoy the wildlife in other ways
There are so many ways to get closer to wildlife, without feeding it. We're running guided and self-guided nature walks, free birdwatching sessions, roadshows and pop ups to help us all learn more about wildlife in its natural environment. Take a look at our nature-themed events here.