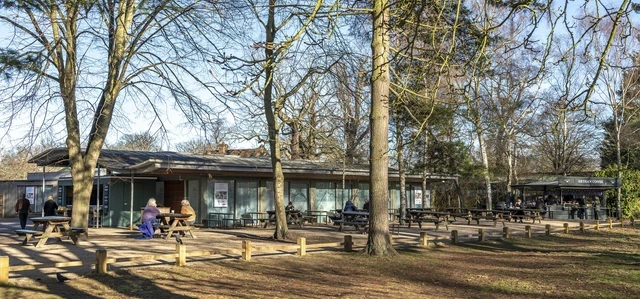 Pheasantry Café
The Pheasantry Cafe is located in the Woodland Gardens in Bushy Park and offers a range of hot and cold meals, snacks, drinks, speciality continental coffees, homemade cakes and ice creams and has indoor and outdoor seating.
All of our coffee is from single origin beans, locally roasted and then hand crafted by trained baristas. There is an on site bakery so every single cake is as fresh as you can get. We believe it's better to make things ourselves so all of our hot food and deli items are prepared using only local and artisanal produce.
If you would like to hold an event at The Pheasantry please email us with your enquiry.
Opening hours
The Pheasantry Cafe is open from 9am - 6pm in the summer (from end of March) and 9am - 5pm in winter (from end of October). The café is closed on Christmas Day, and will close at 4pm on Christmas Eve. Opening times can vary depending on weather conditions.
Contact
For more information contact 020 8943 1347 
The Pheantry Café operated by Colicci. You can contact them by:
Email: bushy@colicci.co.uk
Follow Colicci on Facebook, Twitter or Instagram.
 
The Royal Parks is proud to partner with a number of catering concessionaires and purchases made at our outlets contribute to the care, upkeep and protection of the vital green spaces in which they operate. 

The Royal Parks