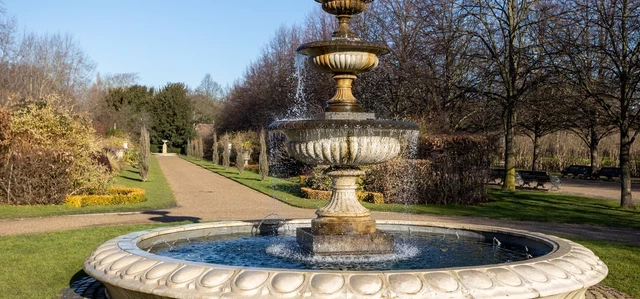 The Avenue gardens
The Avenue Gardens, located near the Broad Walk, have formal displays of spring bulbs and summer bedding. There are tiered fountains, evergreen hedges and vast ornamental bowls filled with flowers.
The original ornaments in the Avenue Gardens have been restored and some Victorian-style planting has been re-introduced to provide year-round interest.
The Avenue Gardens were originally planted by John Nash as the Broad Walk with eight rows of trees. The trees did not thrive and were inspected by various experts, including the Victorian garden designer William Andrews Nesfield, who put forward a design for new formal gardens.
In the centre of the Avenue Gardens, stands a large circular stone bowl supported by four winged stone lions. Known as Griffin or Lion Tazza, often called the Lion Vase, it was installed by Newfield in 1863. It was later repaired during the restoration of the gardens (1993-1996.)