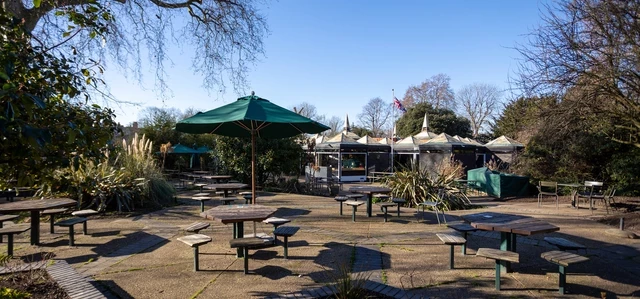 Regent's Bar and Kitchen
The Regent's Bar & Kitchen is located in the middle of The Regent's Park on the Inner Circle, close to the Open Air Theatre and to the Queen Mary's Gardens
It's the perfect spot to enjoy a family meal or an award winning coffee and freshly baked cake. A children's menu is available all year round.
Open seven days a week serving freshly prepared sandwiches and salads, wood-fired oven cooked pizzas, a daily selection of cakes from the bakery and hot and cold drinks. There is also a take-away option to enjoy your food in the picturesque surroundings of the park. Weather permitting, our terrace BBQ offers burgers, hot dogs and vegetarian options alongside ice cold draft beer and Pimm's during the summer.
Opening hours
The Regent's Bar & Kitchen is open from 8am - 4pm. 
Please note opening times change seasonally throughout the year in line with park opening hours and can vary depending on weather conditions.
Hot food is available until one hour before closing.
 
Closed on Christmas Day.
For any further information call the team on 0207 935 5729, email theregentspark@benugo.com or visit the Benugo website.