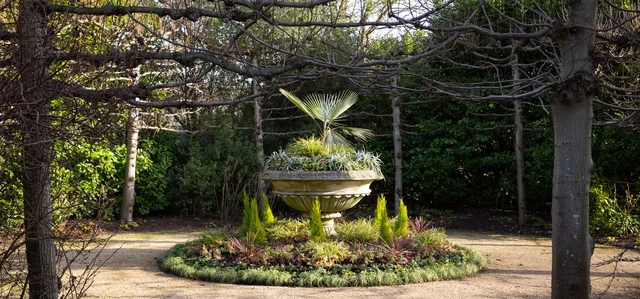 St. John's Lodge Garden
St John's Lodge Garden, located to the north of the Inner Circle, was designed as a series of compartments ornamented with sculpture and stonework. It was made to be a garden 'fit for meditation' by Robert Weir Shultz in 1889.
The centrepiece to the gardens was originally St. John the Baptist, but this has been replaced by Hylas and the Nymph statue by Henry Pegram.
Also, located within the gardens is the Goatherd's Daughter statue. This Grade II listed bronze statue of a woman carrying a young goat was erected in honour of Harold and Gertrude Baillie Weaver by the National Council for Animal Welfare in 1932. Designed by Charles Leonard Harwell, he received the Royal British Society of Sculptors Silver Medal for this statue. The inscription reads: "To all the Protectors of the Defenceless". While St. John's Lodge itself is a private residence, visitors can still access the gardens through a small gate along the Inner Circle, near the park office.
About St. John's Lodge
St. John's Lodge was originally built in 1818 by John Raffield. It was the second villa in the park to be occupied.
In 1847 it belonged to the wealthy and eminent Goldsmid brothers and was greatly enlarged by Charles Barry. In 1889 the lease was acquired by the 3rd Marquess of Bute, who commissioned Robert Weir Schultz to improve the garden layout.
The building was later used as a hospital for disabled officers during the First World War, it was the Headquarters of St. Dunstan's from 1921-1937 and the Institute of Archaeology 1937-58. It is now a private residence, with public access to the gardens.
A monument of Boys with armorial shields on pillars stands in the gardens in front of the Lodge. Likely installed for the Marquess of Bute, three were designed by Sir William Goscombe John in 1894, one by Harold Youngman in 1938 and the remaining two are undated.