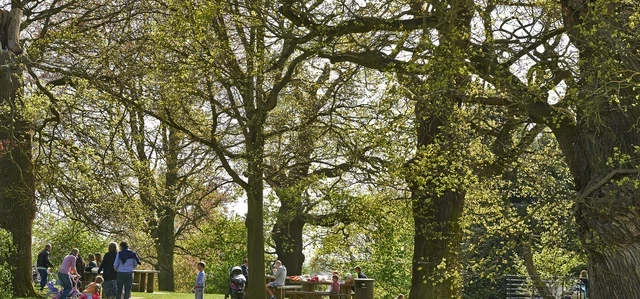 Petersham Gate playground
Petersham Gate playground features:
a sandpit area
a bark pit with a climbing frame and jumping lily pads
balancing blocks and a hammock
an elephant piano (xylophone)
a see-saw
a water play feature.
a timber pergola next to the sandpit provides shade and the timber slab surround, wide steps and boulders provide seating opportunities.
Key details
Age range
Suitable for children up to the age of 12
Facilities
Children's toilets

Opening hours*
* Please remember to check the opening and closing times for vehicles. The playground is closed all day on 25 December.
| | |
| --- | --- |
| January | 7:30am-4pm |
| February | 7:30am-5pm |
| March | 7am-6pm |
| April | 7am-8pm |
| May | 7am-8:45pm |
| June | 7am-9pm |
| July | 7am-9pm |
| August | 7am-8:30pm |
| September | 7am-7pm |
| October (BST) | 7:30am-6pm |
| October (GMT) | 7:30am-4:30pm |
| November | 7:30am-4pm |
| December | 7:30am-4pm |