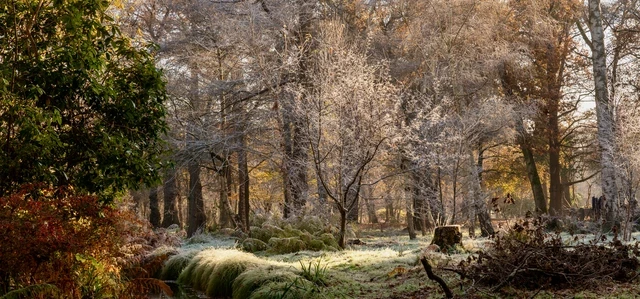 Waterhouse Woodland Garden
Spanning 60 acres, the Waterhouse Woodland Gardens are a beautiful oasis of vibrant plants, towering trees and shimmering waterways.
This woodland walk was created in 1925 by combining two early nineteenth-century plantations: the Pheasantry plantation and Waterhouse plantation.
The history of the Woodland Gardens
In 1948 the then Park Superintendent Joseph Fisher started making improvements to the area; his creative eye was responsible for the new paths and planting that remain the backbone of the gardens today. It is said that he walked through the gardens trailing a stick to mark the route of the sinuous paths. Fisher's Pond towards the western edge of the park is named after him, and the larger expanse of water known as Triss's Pond is named in honour of his daughter.
As you stroll through the Woodland Gardens you'll find many tranquil spots, including the King's River Garden, Willow Plantation and Silver Birch Glade. Even the unappealingly-named Bog Garden is worth a look for the interesting array of water-tolerant plants such as irises, giant plantains and skunk cabbages – the latter of which are much prettier than they sound!
The Pheasantry Welcome Centre is located in the Woodland Gardens and was created as part of a £7.2 million project to restore formal gardens and buildings in Bushy Park.
Did You Know?
Along the fence near one of the entrances to the Garden, Crocodile Gate, you can see undulations in the grass: these are remains of medieval 'lynchets' – large ridges forming earth terraces – created by furrow ploughing.