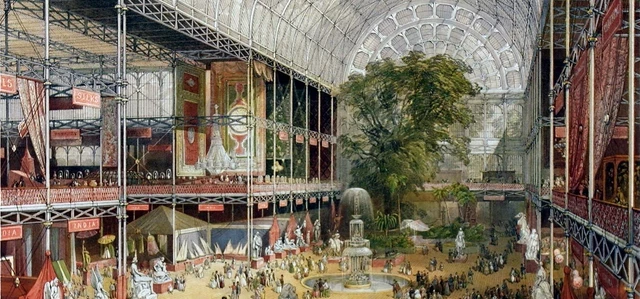 The Great Exhibition Augmented Reality Experience
The south side of Hyde Park was the site of the Great Exhibition of the Works of Industry of All Nations in 1851. Organised by Prince Albert, the event lasted only five and a half months but during this time it showcased the industrial and cultural advances that characterised Victoria's reign and welcomed over six million visitors. The exhibition and its exhibits were housed in an enormous temporary glass structure which became known as the "Crystal Palace".
Thanks to today's technology, you can now walk inside the Crystal Palace and marvel at its true scale in an augmented reality experience!
Visit the south side of Hyde Park, the original site of the Great Exhibition in 1851, and download the free app on your smartphone to recreate the Crystal Palace in true size and form. Walk around the original exhibition site to marvel at the huge scale of the historic building, while looking closely at its beautiful details and discovering fascinating stories about what happened within it.
If you can't visit the park or you prefer using desktop or laptop computers, the recreation is also presented for free as a web page, including views of the upper floor and additional facts.
The project was created by educational augmented reality company, Seymour & Lerhn and accompanies an earlier 'virtual reality' version which allows people to explore the Crystal Palace from their homes.
If you have any questions or comments about the augmented reality experience, please click here.  
 
The Legacy
The Great Exhibition was considered a success and led to similar World Fairs around the globe, including one in France in 1889 that constructed the Eiffel Tower as its entrance. After the Great Exhibition closed in Hyde Park, the modular glass and iron building was taken down and relocated to Penge Place in 1852, an area of South London now known as Crystal Palace. You can still visit the footprint of the original building in Hyde Park, marked out by plaques on the pavement near South Carriage Drive.
The second iteration of the palace was reopened by Queen Victoria in 1854 and sadly destroyed by fire in 1936. Among the 100,000 people who came to watch it burn was Winston Churchill, who remarked "This is the end of an age". However, the legacy of the Great Exhibition lives on. The surplus profits were enough to build the Natural History Museum, Science Museum and the Victoria & Albert Museum, as well as set up trusts to fund research and development that still exist today.