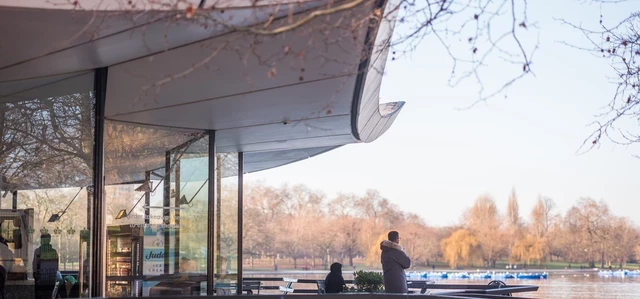 Patrick Gwynne's iconic building on the eastern edge of the Serpentine in Hyde Park houses the Serpentine Bar & Kitchen. Inspired by English country living the restaurant aims to be a retreat for both Londoners and visitors alike.
Whether you're in the mood for a hot sit-down meal, or want to grab-and-go for a picnic in the park, The Serpentine Bar & Kitchen serves a wide variety of food, drinks and desserts. 
By dining at one of our catering outlets, your purchase contributes to the care, upkeep and protection of the vital green spaces in which they operate.
Opening hours
The Serpentine Bar & Kitchen is open daily. Please note opening times change seasonally throughout the year in line with park opening hours and can vary depending on weather conditions.
As of September 2023, seasonal opening times are Monday - Friday, 7am to 6pm and Saturday - Sunday, 8am to 7pm. 

Please note that main meals including pizzas will finish serving 5pm on weekdays and 6pm on weekends. 
Closed on Christmas Day.
Contact 
Telephone: 020 7706 8114
Website: Benugo