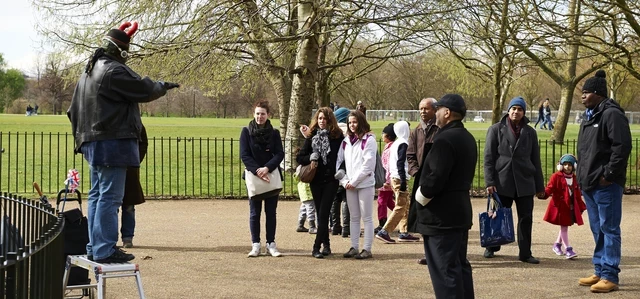 Speakers' Corner
Speakers' Corner is a traditional site for public speeches and debates since the mid 1800's when protests and demonstrations took place in Hyde Park.
Speakers' Corner is located on the north-east edge of Hyde Park, nearest Marble Arch and Oxford Street.
Historic figures such as Karl Marx, Vladimir Lenin and George Orwell were known to often use the area to demonstrate free speech.
In 1872, an act of parliament set aside this part of Hyde Park for public speaking. Even today, on a Sunday morning, it's not unusual to find crowds gathering at Speakers' Corner to listen to enthusiasts expounding their views. Anyone can turn up unannounced to speak on any subject, as long as the police consider their speeches lawful.
History of Speakers' Corner
The beginning of free speech
Close to this spot, about 250 years ago, people were still being hanged at the infamous Tyburn Gallows. The gallows were installed in 1196 and by the time they were dismantled in 1783 more than 50, 000 people had been executed here.
Everyone condemned to die at Tyburn could make a final speech. Some confessed; others protested their innocence or criticised the authorities. For onlookers, executions at Tyburn were big social events. Londoners could buy a ticket to watch executions from a seat on huge wooden platforms.
Eventually, the authorities decided the hangings were too rowdy and transferred them to Newgate Prison. But the tradition for protest and pleasure in Hyde Park continued.
Speakers' Corner today
The origins of Speakers' Corner as it is known today stem from 1866, when a meeting of the Reform League demanding the extension of the franchise, was suppressed by the Government. Marches and protests had long convened or terminated their routes in Hyde Park, often at Speakers' Corner itself. Finding the park locked, demonstrators tore up hundreds of yards of railings to gain access, and three days of rioting followed. The next year, when a crowd of 150,000 defied another government ban and marched to Hyde Park, police and troops did not intervene. Spencer Walpole, the Home Secretary, resigned the next day. In the 1872 Parks Regulation Act, the right to meet and speak freely in Hyde Park was established through a series of regulations governing the conduct of meetings.
The speaking area of Hyde Park as defined in legislation extends far beyond Speakers Corner but it is here where most people congregate.
In addition, Hyde Park's long tradition of accommodating large public demonstrations and rallies continues today.
From 1906 to 1914 the suffragettes held large and small meetings in Hyde Park as part of their campaign for votes for women. In the summer of 1906 they had a meeting every week near to the Reformer's tree. During the Women's Day of 21 June 1908 250,000 women marched to Hyde Park to hear 20 different speaking platforms. In 1913 the Police banned the Women's Social and Political Union from meeting in the park, but the suffragettes defiantly continued to do so.
By the 1930s "soapbox" orators were to be found in marketplaces, street corners and parks across the country. Of the estimated one hundred speaking places found weekly in London between 1855 and 1939, Speakers' Corner is the last to survive.
Speaking out against war
Speakers' Corner was the focus of a huge rally in February 2003 against military action in Iraq. The number of people who attended was estimated at between 750,000 and two million. The speakers and supporters included the actress Vanessa Redgrave, human rights campaigner Bianca Jagger, former MP Tony Benn, playwright Harold Pinter and the Hollywood actor, Tim Robbins.
The rally was one of the most recent in Hyde Park about war. In 1859, there were demonstrations about the Franco-Austrian War. Since an act of parliament in 1872, Speakers' Corner has provided a focus for people to express their views about a range of topics from voting rights to Sunday trading.