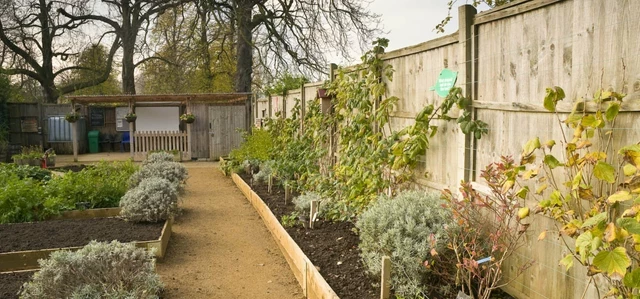 The Kensington Garden Allotment is a beautiful space run by a small group of regular volunteers.
It is open daily and members of the public are welcome to wander in anytime to enjoy and relax at the allotment, as well as pick up useful tips for growing their own fruit and vegetables. The allotment is also open to schools and community groups who want to learn more about sustainability and growing vegetables organically.
Volunteering
This allotment is maintained by a group of dedicated volunteers. If you would like to volunteer at one of our allotments or have any questions, you can fill in an enquiry form.
Schools and Community Groups
If you are a school or community group and you want to learn about organic food growing please get in touch here.
Opening hours
Everyday from 10:00 – 16.30
Location: Behind the Serpentine North Gallery in Kensington Gardens (along Buck Hill Walk)