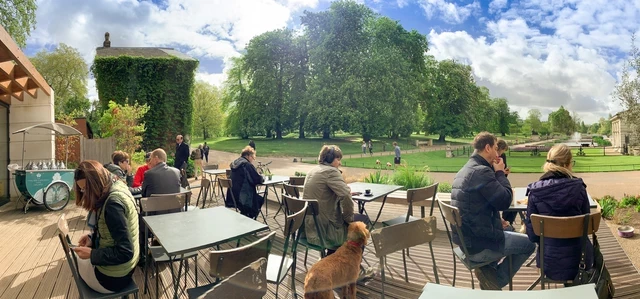 Located besides Queen Anne's Alcove, the Italian Gardens Café has a delicious range of food and drinks on offer.
Whether you're on your morning commute or taking a stroll through the gardens, stop in and enjoy our light breakfast options including our poached egg with smashed avocado on sourdough, French pastries, yoghurt, muesli, fresh fruits and fruit juices. The café also serves a wide range of specialty teas and coffees.
Throughout the day there is a selection of salads, sandwiches, cakes, snacks and hot and cold drinks. There is also a range of gluten-free food available.
A bespoke Gelato cart is also in use on summer days, positioned either on the deck or on the North Walk.
Indoor and outdoor seating is available to give you stunning views across the tranquil water gardens.
The café is a fitting back drop to the formal Italian Gardens and features a living roof which supports biodiversity in Kensington Gardens as well as fine Mediterranean-style planting.
By dining at one of our catering outlets, your purchase contributes to the care, upkeep and protection of the vital green spaces in which they operate.
Opening hours
Opening times (all year round):
Monday - Friday: 7:30am
Saturday - Sunday: 8am

Closing times
1 October - 31 March: 4pm (3pm on Christmas Eve and New Year's Eve). The café is closed on Christmas Day
1 April - 31 May: 6pm
1 June - 30 September: 7pm
 
Contact
Telephone: 0208 640 1700
Email: kensington@colicci.co.uk