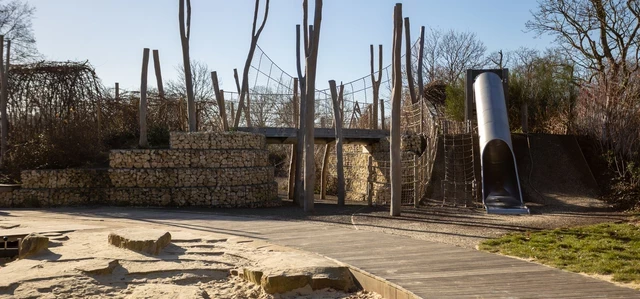 Gloucester Gate Playground
Since the 1930s, children have been swinging, sliding and climbing in Gloucester Gate Playground, just to the east of London Zoo.
In 2019/20  the space underwent a complete transformation,that saw the old, flat and metal playground replaced with an accessible and modern space made from natural materials such as wood, rope, bark and willow, and interspersed with hedges, trees, flowers and grass.

The ambitious new design was inspired by the surrounding landscape, where mounds and mature trees mark all that remains of a 19th century hospital -St Katherine's Lodge- that was demolished after World War Two due to bomb damage.

The new playground is almost double the size of the former playground and offers a 50-metre zip wire, bespoke climbing equipment, and water play, as well as the customary swings, slides and sandpit of a traditional playground. Accessibility has been at the forefront of the design, and a wheelchair accessible roundabout and bridge features, as well as a wide slide and raised tables for water and sand play.

The project has been made possible thanks to a generous donation from the London Marathon Charitable Trust and a mix of public and private donations.
Age range
Suitable for children of all ages. The space is zoned so that children of a younger age have equipment suited to them in the centre and as they circle around the playground, the equipment becomes more challenging.
Facilities
Swings, slides, roundabouts and climbing equipment made from natural materials
Dedicated areas for sand and water play
50-metre zip-line for those feeling extra brave
Children's toilets including an accessible toilet
Baby change facilities in the disabled toilet
Picnic tables and seating areas
Opening times
| | |
| --- | --- |
| January | 10am-4pm |
| February | 10am-5pm |
| March (GMT) | 10am-6pm |
| March (BST) | 10am-7pm |
| April | 10am-7:30pm |
| May | 10am-7:30pm |
| June | 10am-7:30pm |
| July | 10am-7:30pm |
| August | 10am-7:30pm |
| September | 10am-7pm |
| October (BST) | 10am-6pm |
| October (GMT) | 10am-5pm |
| November | 10am-4pm |
| December | 10am-4pm |
The playground is closed all day on 25th December.