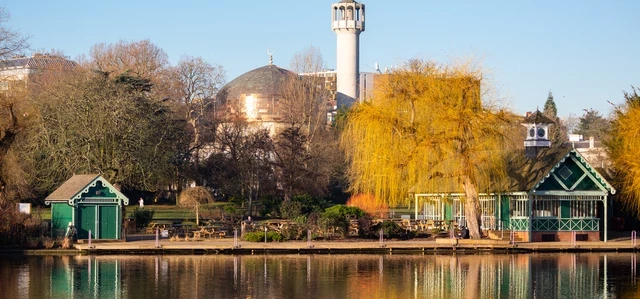 The Waterside Café
Nestled within The Regent's Park, The Waterside Café operated by Life Cafés & Resorts boasts a fantastic lakeside location with stunning scenic surroundings.
The cafe's vibrant energy is heightened by the open kitchen concept, which serves a range of freshly prepared food and drink throughout the week, from breakfast and brunch through to late-lunch.
Throughout the year, guests can dine indoors amongst the colourful and sustainable interiors inspired by the Queen Mary's Rose Garden, or alfresco on the cafe's beautiful outdoor terrace overlooking the historic lake. The outside dining area features bespoke picnic benches, which are accessible for wheelchairs, allowing the cafe's beautiful setting to be enjoyed by all.
The cafe's Grab and Go fridges are completely free of non-compostable and recyclable plastics and all takeaway packaging, including cups, lids and food boxes are 100% compostable. In addition, the cafe's countertop is made from recycled materials and the counterfront and tables are made from reclaimed wood.
The Waterside Café is also proud to operate a number of sustainable schemes including the 'Grounds for Growth' scheme – providing used coffee grounds in compostable packaging for customers to take home and use in their gardens or house plants, as fertilizer or compost. The café also offers customers seeded and plantable loyalty cards, part of the 'Plant your loyalty with us' scheme.
A variety of food and drinks are available including sandwiches, salads, hot food, cakes and snacks as well as fresh coffee and a selection of teas and cold drinks.
Opening hours
The Waterside Café is open from 9am - 7:30pm in the summer and 9am - 4:30pm in the winter. Please note opening times change seasonally throughout the year in line with park opening hours and can vary depending on weather conditions.
Closed on Christmas Day.
Contact details
To get in touch with Life Cafés & Resorts, please email contact-us@deepbeatentertainment.com or visit their website.