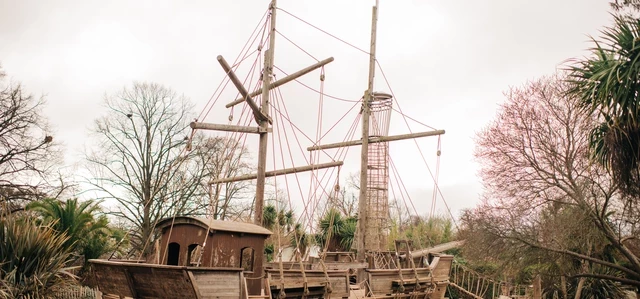 Diana Memorial Playground
Located next to her Kensington Palace home, the playground is a fitting tribute for a princess who loved the innocence of childhood.
Over 1,000,000 visitors enjoy this free playground every year. Kids love to play, explore, dash about, and let their imaginations soar. The playground's centrepiece is a wooden pirate ship, and it also includes a sensory trail, teepees, a beach around the pirate ship and various play sculptures; all set against a lush backdrop of trees and plants. There's plenty of seating so the grownups can relax too.
The playground was specially designed to create an area where less able and able-bodied children can play together and seeks to provide for their physical, creative, social and educational development. Inspired by the stories of Peter Pan, being in such a magical environment encourages children to explore and follow their imaginations, learning whilst they play.
Please note that the last entry is 15 minutes prior to closing time.
Opening times
May to August: 10.00 - 19.45
April and September: 10.00 - 18.45
March and early October: 10.00 - 17.45
February and late October: 10.00 - 16.45
November to January: 10.00 - 15.45
Kensington Gardens
Details at a glance
Admission and queue management
To ensure safety and security of children, only adults supervising children up to the age of 12 will be admitted. Children should not be allowed to enter or leave the playground without an adult carer.
The playground is extremely popular. On busy days when the playground reaches full capacity there will be a queue for entry. On warm, sunny days the queue can start as early as 10:00am and last until the last admission time, with waiting times ranging from between 15 minutes up to one hour.
We are not able to admit children's birthday parties or large groups where the number of adults exceed the number of children. There are tables outside the playground and plenty of space in the surrounding area if you wish to have a party in the park.
We ask for your patience and kindness toward our staff who are there to keep everyone safe.
Joining the group and re-admission
Relatives and friends who arrive after your admission, that wish to join your party will be asked to join the queue. Please show courtesy to others, majority young children, standing in the queue and follow instruction of staff in this matter.
We understand you may need to leave the playground for a short time and wish to rejoin those who are still inside. Please make this clear to the playground staff when you leave or you may not be able to reenter immediately. This is particularly important when the queue is in place.
Please note: unaccompanied adults may only enter the playground between 9.30 and 10.00.
Safety precautions
The playground is likely to be very busy at all times. For everyone's safety and enjoyment please observe the following:
Please supervise your children at all times
Glass bottles or jars are not allowed
Cycling, rollerblading, scooters and ball sports are not allowed
Adult bicycles/Cargo bikes are not permitted
Smoking is not permitted in the playground (including e-cigarettes)
Alcohol is not permitted in the playground
Only registered Assistance Dogs will be permitted
Supervision
This playground is permanently attended when open. The playground staff will monitor activities, provide first aid and summon any other assistance that might be required. There will always be at least one member of staff on duty who is first aid qualified. It is the parents/carers responsibility to supervise their children. Children must not be left unaccompanied.
Schools and large groups
If you would like to bring a group of children to the Diana Memorial Playground you should book ahead using our online booking system.
Contact details
Get in touch here. 
Schools and large group playground bookings
Information for schools and large groups who are visiting the Diana Memorial Playground in Kensington Gardens.
Schools and large group bookings for the Diana Memorial Playground