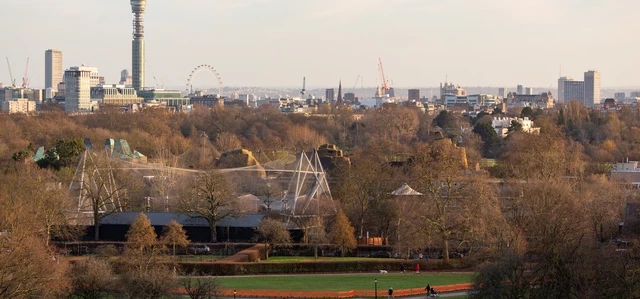 Primrose Hill
Primrose Hill has a character all of its own, at the summit of this grassy hill are some spectacular views across London. It is separated from The Regent's Park by Prince Albert Road and the ZSL London Zoo.
Like The Regent's Park, this area was once part of a great chase, appropriated by Henry VIII. Primrose Hill, with its clear rounded skyline, was purchased from Eton College in 1841 to extend the parkland available to the poor people of north London for open-air recreation.
At one time this was a place where duels were fought and prize-fights took place. The hill has always had a somewhat lively reputation, with Mother Shipton making threatening prophesies about what would happen if the city sprawl was allowed to encroach on its boundaries.
At the top of the hill is one of the six protected viewpoints in London. The summit is almost 63 metres above sea level and the trees are kept low so as not to obscure the view. In winter, Hampstead can be seen to the northeast. The summit features a York stone edging with a William Blake inscription, it reads:
I have conversed with the spiritual sun. I saw him on Primrose Hill.
An oak tree, known as "Shakespeare's Tree" stands on the slope of the hill, planted in 1864 to mark the 300th anniversary of Shakespeare's birth. A large crowd of workmen marched through London to watch the planting ceremony in 1864. A replacement tree was re-planted in 1964.
Following public consultation, and considering the available evidence, The Royal Parks will install gates on Primrose Hill to facilitate park closures.

Primrose Hill Playground improvement works are now complete, but the new shrubs and young trees need time to establish. The playground will reopen soon.

Primrose Hill Café serves a selection of hot and cold drinks and food items including wraps, sandwiches and snacks.